Launch of Tucan.biz
Release Date: Mar-12-2010
A screen capture of our new corporate website, www.tucan.biz.
Tucan is proud to announce the launch of our new corporate website,
www.tucan.biz
. The new website features content updates, enhanced portfolio, emphasis on branding and most importantly highlights our web design and development capabilites.
A main emphasis on the new website was a branding shift towards the name Tucan.biz from Tucan Design and Development. The simpler, catchier name will improve our brand impact and provide a base for future advertising growth. The new name should not come as a surprise since our clients have always referred to us as Tucan.
A feature that has us excited is our
new portfolio
. We wanted to feature the beautiful websites we've worked on and give credit to the talented artists and design firms we have had the forturne to work with. The visual emphasis of the portfolio area makes it a must see destination for all visitors.
Another enhancement to our website is our
press room
. Our news feature will announce the release of new websites, highlight new services or capabilites and contain public announcments.
We are thrilled to have our new website posted and looking forward to demonstrating our work/capabilities to existing and future clients.
Thank you to all who helped contribute to this project. Your outstanding effort and cooperation is reflected in this project.
Headlines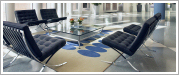 ---
View Portfolio
Learn more about our work by visiting our portfolio.